We're committed to giving clients the information, advice and products they need to help change the world for the better, with our environmental, social and governance (ESG) solutions.
---
"Even the smallest positive step has a positive impact. And when you walk alongside millions of others, you can really change the world. That's why we're investing in new ways for clients to support the causes they care about, without compromising on their financial objectives. Our goal is to be the private bank of choice for clients who wish to make positive social change."

Claudio de Sanctis
Head of the International Private Bank
CEO EMEA, Deutsche Bank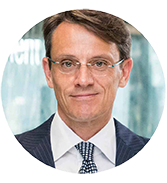 Advisory approach
We're working towards placing ESG at the centre of our client service model, making it the default choice for investment solutions rather than requiring clients to opt in. From discretionary portfolio management to funds and finance, we're committed to growing our range of products based on ESG criteria1. We're also launching a dedicated ESG reporting system so that clients can see clearly how their investments are having a positive impact.
Solutions
We're investing in our core discretionary portfolio management service to develop new ESG solutions. We're building ESG criteria into our Strategic Asset Allocation process, seeking to grow core portfolios over the long term while mitigating the adverse effects of volatility. And we're launching thematic offerings in 2021 so that investors can support the causes they care about, including a blue economy fund developed by DWS.
Training
To ensure our clients get appropriate advice on ESG solutions, we're committed to training our product experts to standards certified by the Chartered Financial Analyst Institute and the European Federation of Financial Analysts Societies. And to ensure ESG is at the heart of everything we do, we're also providing all 7,000 of our staff with ESG training by the end of 2021.
Thought-leadership
We aim to have a positive impact on ESG issues via the market and thematic research we publish, the events we hold and our collaboration with external thought-leaders. As the first bank to be a full member of the Ocean Risk and Resilience Action Alliance (ORRAA), we'll work to scale up global action and private investment in marine and coastal natural capital, promote a sustainable blue economy and build resilience in the regions most vulnerable to ocean-related risks.

What is ESG investing
ESG is short for 'Environmental, Social and Governance·. You can find out more about the principles of ESG here


ESG investing: how we can help
Find out more about how we can help you to align your portfolio with your values and arms.

1Our ESG framework takes into account the applicable EU Sustainable Finance Disclosure Regulation (SFDR), with adaptations for local markets that we assess and update continually, plus guiding principles developed in-house based on Deutsche Bank's values and beliefs. However, there is currently a lack of uniform criteria and a common market standard for the assessment and classification of financial services and financial products as sustainable. This can lead to different providers assessing the sustainability of financial services and financial products differently. In addition, there are various new regulations on ESG (Environment, Social and Corporate Governance) and Sustainable Finance, which need to be substantiated, and further draft regulations are currently being developed, which may lead to financial services and financial products currently labelled as sustainable not meeting future legal requirements for qualification as sustainable.