db OnlineBanking platform is certified with VeriSign SSL EV certificate which provides the highest level of online security and assurance for your online transactions.An EV SSL certificate ensures that the data transfer is secure. These extended validation certificates require extensive vetting process, significantly more rigorous as compared to all other types of SSL Certificates. EV SSL Certificates are available only to corporations which are legally registered and verified.
Most browsers today display green trust indicators for EV. A 'padlock' icon in the browser next to the address bar and 'https://' prefix in the URL are the visible indications of a secure connection.
If you visit a website which has an invalid certificate, a prominent warning id displayed to the users, which recommend users not to visit the page. It blocks immediate access to the site, although users can proceed to the site if they wish by clicking on "Continue".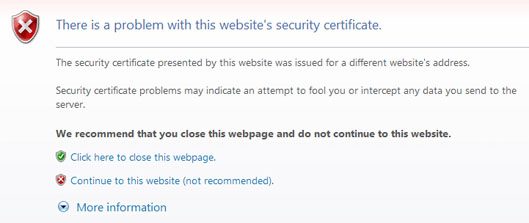 If you choose to continue, browsers will display red address bar and a red warning security badge.
Report certificate error
When you access the transaction website of Deutsche Bank India, look for the above-mentioned signs of security (padlock, https and green shade) before you progress. If you come across a certificate error while trying to access our online transaction site, it is possible that you may be at a phishing site. You are advised not to proceed with the transaction and notify this to us by sending an email to customer.care@db.com or call our 24/7 phone banking team at 18602666601#.
#Customers outside India need to dial +91 22 6601 6601. Customers in Mumbai can also call at +91 22 6601 6601. Call charges apply.